Garage Door Braces
Do You Know That…
The garage door is potentially the largest and weakest opening of your home to a hurricane?
According to the Federal Alliance for Safe Homes about 80 percent of residential hurricane wind damage starts with wind entry through garage doors?
The Federal Emergency Management Agency (FEMA) has identified the loss of the garage door as one of four major factors in homes damaged and destroyed in Hurricane Andrew?
As the American Red Cross warns, if your garage door fails, the full fury of the hurricane will enter your house and in all probability blow off your roof and destroy your home?
Secure Door is a bracing system designed to protect your garage door from hurricane force winds. It is made of high-quality aluminum that is lightweight yet incredibility strong. The Telescoping design enables the brace to fit almost all garage doors up to 8 ft. in height. Brackets are attached to hinges to keep the garage door from being sucked in or blown out. The brace is anchored to the wall above the garage door, to each hinge on the door, and to the garage floor.
Product Benefits:
Easy and quick installation
Protects the potentially largest/weakest opening of your home
Can sustain up to 180 mph winds
Light weight
Inexpensive hurricane protection
Easy and convenient storage
We stand behind our products with a two year warranty on materials and workmanship.
Town & Country – Eyewall Armor; Maestroshield; Panels; Simonton Windows and Doors
Fortified Building Products – Accordion; Colonial; Bahama; Crimsafe Hurricane Screens
Suntex – Solar Screens
Secure Door – Garage braces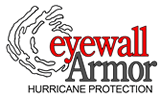 Our Service Area
Specialty Shutters offers services to the Victoria Tx area, as well as, the following surrounding towns.
Aransas Pass, Texas
Austwell, Texas
Bayside, Texas
Blessing, Texas
Bloomington, Texas
Collegeport, Texas
Francitas, Texas
Fulton, Texas
Goliad, Texas
Indianola, Texas
La Salle, Texas
La Ward, Texas
Lamar, Texas
Lolita, Texas
Matagorda, Texas
Palacios, Texas
Point Comfort, Texas
Port Lavaca, Texas
Port O' Connor, Texas
Porto Alto, Texas
Refugio, Texas
Rockport, Texas
Seadrift, Texas
Sinton, Texas
Tivoli, Texas
Vanderbilt, Texas
Victoria, Texas
Woodsboro, Texas