Hurricane Screens
Hurricane Security/Storm Screens offer a pleasing exterior look as well as protection. They will save you money from buying Hurricane Shutters, and on your electric bill on the window exposed to the sun. You may also be entitled to a discount from your insurance company.
Our product is made with stainless steel screen mesh with corrosion protection. They are built to last storm after storm, year after year.
Benefits of Hurricane Security/Storm Screens
95% Heat Energy Savings
Florida Energy office award
Hurricane shutter you can see through
Aesthetic Appeal
No need for unsightly bars or Shutters
No more being left in the dark
Beautiful Designer Appearance
Custom built to almost any shape
Limited 5 year warranty on screen
Large missile approved
Burglar resistant
Limited lifetime warranty on the frame construction
Crimsafe® is a stainless steel security mesh and frame system. It is used to secure doors, windows and outdoor areas from intruders and insects alike.
From a distance, it looks like an insect screen and it does the same job of keeping your house cool in Summer while keeping mosquitoes out. Crimsafe is unlike any other insect screen you've ever seen, because it makes your home virtually impenetrable to thieves.
Two special features mean it beats more burglars.
The mesh is 'screw-clamped' so it can't be kicked out. Look at the picture above and you can see how the Crimsafe mesh is sandwiched between two serrated pieces of aluminum that clamp the mesh tight. One is an aluminum strip with a hook and the other is the frame that the strip hooks into. All three are screwed together with stainless steel tamper-resistant screws and the different components are separated by a Santoprene (rubber) bead to eliminate electrolysis that could lead to corrosion.
This combination mechanically fastens the mesh to the frame and creates a barrier that can't be kicked in - The Screw-ClampedTM Mesh that Beats More Burglars.
This system is internationally patented and unique. Only Crimsafe® features screws driven through both the clamp and the mesh and right into the frame on the other side, providing incredible strength.
The test below is designed to simulate a knife attack on Crimsafe® as a burglar seeks quiet entry into your house. In this case a standard cutting blade such as a Stanley knife is used on the basis that it is an instrument that is readily concealable and also readily available, to allow repeatable, consistent tests.
Using a specially designed machine, the knife is drawn along a 25cm line down the test panel 3 times.
The test panel fails if a continuous penetration measuring more than 15cm is achieved after the 3 passes.
Crimsafe® passes easily, thanks to its trademarked Tensile Tuff ® mesh. Tensile Tuff ® has a number of features which give it the ability to withstand the penetration of the knife.
Firstly, we make Tensile Tuff ® with 304 Stainless Steel Security wire. It has a high tensile strength and a special elongation factor, which allows it to be woven into the exacting standards of Tensile Tuff ® . Once it is woven into a mesh, our 304 Security wire has increased strength properties because all the interwoven strands have a "greater than the sum of its parts" effect to foil any knife attack.
We stand behind our products with a two year warranty on materials and workmanship.
Town & Country – Eyewall Armor; Maestroshield; Panels; Simonton Windows and Doors
Fortified Building Products – Accordion; Colonial; Bahama; Crimsafe Hurricane Screens
Suntex – Solar Screens
Secure Door – Garage braces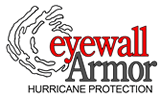 Our Service Area
Specialty Shutters offers services to the Victoria Tx area, as well as, the following surrounding towns.
Aransas Pass, Texas
Austwell, Texas
Bayside, Texas
Blessing, Texas
Bloomington, Texas
Collegeport, Texas
Francitas, Texas
Fulton, Texas
Goliad, Texas
Indianola, Texas
La Salle, Texas
La Ward, Texas
Lamar, Texas
Lolita, Texas
Matagorda, Texas
Palacios, Texas
Point Comfort, Texas
Port Lavaca, Texas
Port O' Connor, Texas
Porto Alto, Texas
Refugio, Texas
Rockport, Texas
Seadrift, Texas
Sinton, Texas
Tivoli, Texas
Vanderbilt, Texas
Victoria, Texas
Woodsboro, Texas