Solar Screens:
Instant Relief from the Sun's Heat
SunTex is a unique woven mesh that can block 80-90% of the sun's hot rays before they enter your windows. SunTex is ideal for use as a shading fabric on windows, doors and porches and offers good ventilation. This heavy-duty fabric made of strong vinyl-coated polyester is resistant to pet damage. Developed originally for use in outdoor furniture, SunTex is mildew and fade resistant and needs only an occasional cleaning with mild soap and water.
This chart shows a window with brown SunTex installed. In midsummer as much as 230 BTU's can fall on each unprotected square foot of glass. With SunTex installed, up to 90% of the sun's heat and glare is reflected, absorbed and dissipated before it strikes the window.
Benefits of SunTex Solar Screens:
Protects against fading and sun rot
Provides daytime privacy
Lets in soft light and breezes
Reduces glare
Affords full vision inside out
INSTANT RELIEF FROM THE SUN'S HEAT!
Studies have shown exterior solar screen shading as the most cost-effective and efficient way of controlling heat and glare entering any window, new or old. Although interior window treatments offer benefits, exterior application of solar screens has proven to be far superior in enhancing window performance, and controlling the sun's damaging U.V. rays. Solar screens reduce the necessary "tonnage" of an air conditioning system up to 1.5 tons, reduce the overall "load" on the system up to 60%, lower interior temperatures up to 20 degrees, and SAVE YOU MONEY on utility bills immediately. Added savings are realized in longer lasting equipment, requiring less maintenance due to the decreased work load.
Solar Screen shading is endorsed, and even promoted by many organizations including the U.S. Department of Energy, The Environmental Protection Agency, and the Florida Energy Center (considered by many as THE leading authority in energy efficiency studies) as the "best saving opportunity" of all window treatment possibilities.
We stand behind our products with a two year warranty on materials and workmanship.
Town & Country – Eyewall Armor; Maestroshield; Panels; Simonton Windows and Doors
Fortified Building Products – Accordion; Colonial; Bahama; Crimsafe Hurricane Screens
Suntex – Solar Screens
Secure Door – Garage braces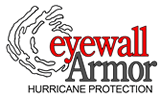 Our Service Area
Specialty Shutters offers services to the Victoria Tx area, as well as, the following surrounding towns.
Aransas Pass, Texas
Austwell, Texas
Bayside, Texas
Blessing, Texas
Bloomington, Texas
Collegeport, Texas
Francitas, Texas
Fulton, Texas
Goliad, Texas
Indianola, Texas
La Salle, Texas
La Ward, Texas
Lamar, Texas
Lolita, Texas
Matagorda, Texas
Palacios, Texas
Point Comfort, Texas
Port Lavaca, Texas
Port O' Connor, Texas
Porto Alto, Texas
Refugio, Texas
Rockport, Texas
Seadrift, Texas
Sinton, Texas
Tivoli, Texas
Vanderbilt, Texas
Victoria, Texas
Woodsboro, Texas